The Association of Southeast nations in Asia(ASEAN) is an organization formed by ten nations to promote economic, security and political cooperation. The ten ASEAN countries have had fluctuating numbers in terms of development and economic growth over the years. A close analysis is required to monitor the development policies of these nations.
Economic Outlook To 2021
The real Gross Domestic Product(GDP) growth in ASEAN is expected to continue strong at an average of 6.2% in the duration of 2017-2021. This is only a slight change compared to 2016, which had a GDP growth of 6.5%. Vietnam and Philippines continue to be at the top position with respect to growth amongst the ASEAN-5 that comprises of Indonesia, Malaysia, Philippines, Thailand and Viet Nam. Their growth rates are 6.1% and 6.2% respectively.
The other countries in ASEAN-5 are expecting a stable growth in the coming years. Brunei Darussalam and Singapore will witness a moderate graduation in their growth rates. CLM- Cambodia, Lao PDR, and Myanmar will be still on the run to catch-up with the robust growth rates in the next five years with a target of going beyond 7%. Private consumption will continue to make a large contribution to the GDP. China will have a 6% growth rate while India's growth rate will remain as high as 7.3%.
Growth Risks
Despite the improvement in the GDP, major analysis and attention should be given to the downside risks to growth.
Slow pacing of trades: Factors behind this include China's slowdown and increased prevalence of non-tariff barriers.
Low interest rates in advanced economies: If not properly taken care of, outcomes could be market instability in the emerging ASEAN.
Levelling the growth of productivity: It threatens long-term scopes of growth. Enhanced productivity requires reformation of business environments and policies to manage the emergence of production firms along with integration with present technology.
Recent Developments And Regional Integration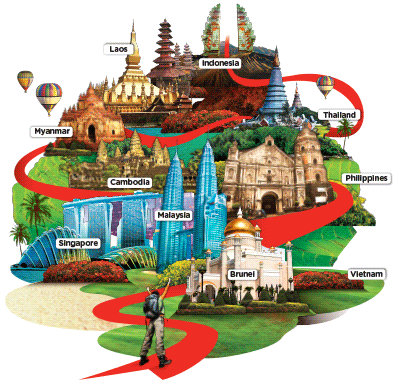 Integration is always a good option when the talk of improvement in growth prospects comes into the picture. The ASEAN Economic Community was established and a number of sector plans for the future have been set to facilitate the free flow of goods, services, investments, capital and skilled labor.
There are 12 key areas in which achievements have been made. Some of them include trade in goods, trade in services, infrastructure and connectivity, consumer protection, intellectual property rights, food, agriculture and forestry, and much more. Find more about the Dominican Republic Strengthening Management Of Public Finances.
Developing Renewable Energy
There has been a drastic increase in energy consumption in Southeast Asia. Majority of reasons include a variety of socio-economic factors such as increasing population, increased access to electricity, and sustained economic growth. Much of ASEAN has set specific targets for the implementation of renewable energy, and mechanisms to foster the development of conventional energy resources. China and India are making amazing contributions to global investment in renewable energy. Viet Nam, Lao PDR, Thailand, Malaysia are leading investments among ASEAN countries, particularly known for investing largely in hydropower.
Foreign direct investment will be an important channel for investment in renewables and for green jobs. Emerging Asia will also need solutions to challenges in grid access and energy pricing mechanisms to acquire the right conditions in the development of renewable energy.
Structural Policy Challenges
There are priority areas set to give primary focus to and those include infrastructure, FDI, education, tourism and so on. Other important issues to be looked upon are economic diversification, capital market development, entrepreneurship, and digital economy.